Veiligheidsmarkeerkegels
Onlangs zijn onze afzetkegels succesvol getest op windbelasting (Wind stability of signalisation cones) volgens de Europese norm EN1991-1-4 in het windtunnel laboratorium in Luik. Vanwege de verzwaarde voet blijven onze pionnen zeer stabiel staan tot windkracht 9 (zware storm). Deze onverwoestbare afzetkegels zijn zeer geschikt voor het veilig afzetten / markeren van vliegtuigen en het geleiden van passagiers bij het in- en uitstappen van vliegtuigen. Onze veiligheidskegels voldoen aan de vereisten uit de IATA Airport Handling Manual.
Één van de veiligheidseisen op airside is het plaatsen van markeerkegels rondom vliegtuigen zodra deze tot stilstand is gekomen. De inzet van veiligheidskegels helpt het grondafhandelingspersoneel om de grenzen van de equipment restraint area (ERA) af te bakenen. De ERA is het gebied dat begrenst word door een rode lijn waarin de vliegtuigen geparkeerd staan tijdens grondoperaties. Dit gebied moet vrij zijn van obstructies en vreemde voorwerpen (FOD) voor en na aankomst en vertrek van het vliegtuig.


Positie markeerkegels vliegtuigen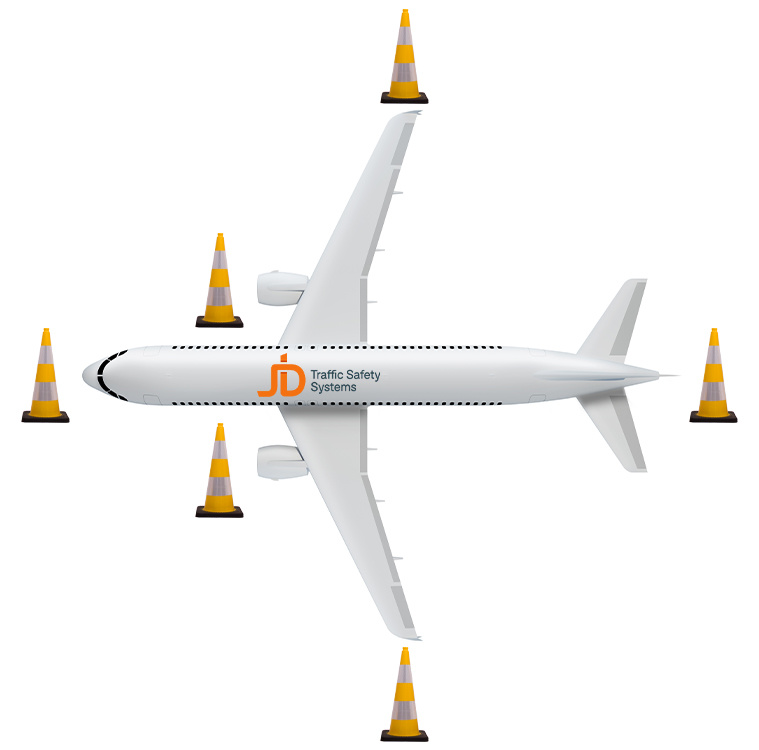 Eisen markeerkegels
Kegels moeten stabiel zijn en mogen niet gemakkelijk omvallen als gevolg van sterke wind (weer), uitlaatgassen van straalmotoren en propellerwinden.
De kegels moeten worden ontworpen met een laag zwaartepunt, dat wordt bereikt door een zware vaste basis (ééndelig) en een relatief lichte top.
De kegels moeten een minimumhoogte van 0,75 m (75 cm) hebben.
Kegels hebben een minimumgewicht van 4,2 kg +/- 250 g
Kegels moeten retroreflecterend zijn vanuit een brede hoek, zodat ze zichtbaar zijn in slechte weersomstandigheden.
De achtergrondkleur moet fluor oranje of geel zijn met witte retroreflecterende strepen voor dag en nacht zichtbaarheid.
De kegels moeten aan de basis worden voorzien van afstandhouders om beschadiging van de retroreflecterende hoes te voorkomen, met name wanneer ze worden gestapeld voor opslag.
De kegels moeten een handvat hebben om ze gemakkelijk te kunnen vervoeren.
Als optie kunnen kegels worden uitgerust met een voorziening voor de installatie van een waarschuwingslamp (constant, knipperend of draaiend) voor werkzaamheden 's nachts en bij slecht weer.