Crash Cushion Leonidas 110/130 Parallel
Article code: 220003
Tested according to EN1317-3 up to 130 km/h

Tested with 2000 Kg vehicle.

Best vehicle occupant performance

With CE Marking

Management and maintenance using NFC Technology

 
Leonidas Crash Cushion 110/130 Parallel
Berm protection
Thanks to an efficient patented energy absorption system consisting of special metal honeycomb panels, we deliver the best performing crash cushions. In the event of a collision, these honeycomb absorbing modules ensure an almost even absorption of the kinetic energy during the entire deformation of the crash cushion. This minimizes the risk of injury or worse. Leonidas barriers are delivered fully assembled, making installation quick and easy. We supply tailor-made connections to connect seamlessly to the guardrail. Thanks to the modular construction, damage can be repaired quickly and easily after a collision, often on site. Parts of this terminal are up to 80% reusable and 100% recyclable. This way, huge savings can be made on the costs of damage repair.


Tested according to EN1317
Leonidas is the only crash crash cushion on the market that has been tested up to 130 km/h and the only crash barrier that has been tested with a 2000 Kg vehicle. Of course, the Leonidas crash cushions have been fully and successfully tested in accordance with EN1317 and they are provided with CE Marking, which means that this crash cushions complies with the Construction Products Regulation EU/305/2011. They are also approved for installation on Rijkswaterstaat's acreage.


Ready for the future
The use of electric, larger and heavier vehicles is constantly increasing. In order to optimally protect the start of guide rail constructions and obstacles along roads for these heavier vehicles, we supply and install these durable and maintenance-free Leonidas Crash Cushions that have been tested for these heavier vehicles. The Leonidas Crash Cushion is the only Crash Cushion that has been tested with a 2000 kg vehicle. By placing these crash cushions, road safety is ready for the future.


Easy management and maintenance
With NFC technology, we can easily map our installed traffic safety systems. An NFC Tag is mounted on every Crash Cushion. As soon as you hold a smartphone in front of the NFC Tag, the App will open automatically. Clear instructions are given step by step on how to install the crash cushion. At each step a photo and possibly a comment can be added. When all steps have been completed, the data, including the GPS position, will be centrally stored on our portal. All data about the placement, model, type and year of construction are then available via the Portal. After a collision, this information can be passed on to us, so that the damage can be repaired quickly and the road is safe again. An extensive manual is also available in the NFC Tag. The damage can be easily repaired via a step-by-step plan, with photos of the various parts.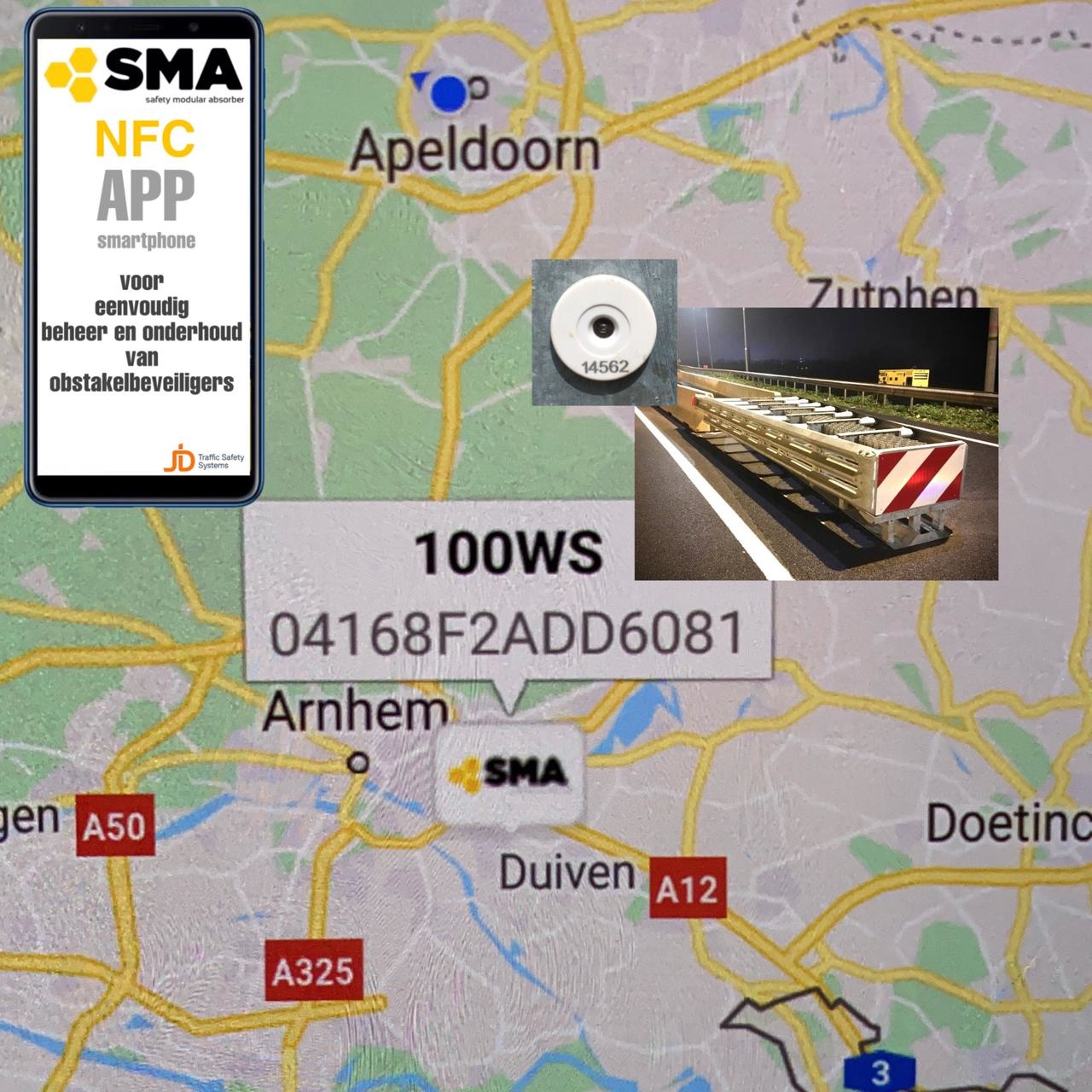 The advantages at a glance:
Successfully tested for 110 and 130 km/h.
According to EN1317-3
Redirective
Completely made of steel (100% recyclable)
Easy to install
Reusable (up to 80%)
No maintenance required
High security
The shortest crash pad in the world
Comes fully assembled
Seamless connection to guard rail / guide rail
With CE Marking
Features NFC Technology for easy management and maintenance


Specifications
| | |
| --- | --- |
| Obstacle protector Leonidas 110P | Obstacle protector Leonidas 110P-L |
| Length      : 6010 mm | Length      : 6010 mm |
| Width        :   860 mm | Width       :  1100 mm |
| Height       :   770 mm | Height      :    770 mm |
| | |
| --- | --- |
| Length | cm |
| Width | 10 cm |
| Heigth | 760 mm |
| Performance level | speed |
| Redirection zone | Z1 |
| Lateral displacement | D1 |
| ASI | B |
No reviews available for this product yet
Share your experience with this product.
Customer service
Do you have questions about this product? Please do not hesitate to contact one of our specialists.