Terminal Ermes T1 50 km/h
Article code: 222010
Best performance in the event of a collision

Tested according to ENV1317-4, prEN1317-7 and EN1317-3

With CE Marking

Fully recyclable

Maintenance free

Easy and quick to install
Terminal Ermes T1 50 km/h.
Road Safety
The dangers of collisions at a speed of 50 km/h or even slower are often underestimated. Research shows that low-speed collisions against fixed obstacles can lead to serious injury and even death to drivers and/or passengers. 60% of road deaths occur on roads within municipalities. Secure streetlight posts, trees, lane separations or other obstacles along roads with Terminals that have been specially developed for these low speeds. Thanks to their small size, they are effortlessly adopted by the environment and road safety is increased. The narrow Ermes Terminals are also very suitable for central reservation security thanks to the double-sided operation in 2 directions. With the Ermes Terminal T1, we can achieve the best security for every obstacle within urban areas. The Ermes Terminal T1 for 50 km/h has also been successfully tested according to EN1317 and provided with CE marking. This terminal provides the best performance for vehicle occupants in the event of an unexpected collision. The Ermes Terminal is completely made of steel and is 100% recyclable. The Ermes Terminal Crash Cushion T1 is modular and can be completely disassembled and therefore makes a major contribution to circularity. Thanks to the long lifespan, this can be seen as a circular application that is suitable for re-use according to circularity concepts.


Tested according to EN1317
The Terminal Ermes T1 has been tested as a terminal according to ENV1317-4 and prEN1317-7, but also as a crash cushion according to EN1317-3 up to 50 km/h. and is therefore the only terminal in the market with CE marking. This terminal guarantees the best performance for vehicle occupants in the event of an unexpected collision. Thanks to the modular construction, damage can be repaired quickly and easily after a collision, often on site. Parts of this terminal are up to 80% reusable and 100% recyclable. In this way, huge savings can be made on the costs of damage repair.
Ready for the future
The use of electric, larger and heavier vehicles is constantly increasing. In order to optimally protect the start of guardrails and obstacles along roads for these heavier vehicles, we supply and install these durable and maintenance-free Ermes Terminals that have been tested for these heavier vehicles. The Ermes Terminal T1 is the only Terminal that has been tested with a 2000 Kg vehicle. By installing these terminals, Road Safety is ready for the future. The Ermes End-Terminal T1 adds a new standard to the Dutch market. The performance (D1 and Z1) of a crash cushion for the price of a terminal.
Wooden Guide Rail
Wooden crash barriers are increasingly being installed because it is durable and fits better into the streetscape. Wooden guide rail constructions are often composed of wood and steel and are available in different performance classes. Because a steel start construction does not aesthetically match a wooden endterminal, the start is often buried at an angle. This is not a safe solution. Vehicles can be launched or shoot uncontrollably into the roadway. We have now devised a safe solution to properly secure the beginning of the wooden guardrail and not to detract from the aesthetics of the wooden crash barrier. The Ermes Terminals sprayed in color from the connecting wooden guardrail. The Ermes Terminals can be seamlessly connected to the wooden guardrail with tailor-made connections, so that the start of the guardrail is optimally secured.


Easy repair and maintenance
With NFC technology, we can easily map our installed traffic safety systems. An NFC Tag is mounted on every Terminal, Crash Cushion or Guardrail. As soon as you hold a smartphone in front of the NFC Tag, the App will open automatically. Clear instructions are given step by step on how to install the roadside protection. At each step a photo and possibly a comment can be added. When all steps have been completed, the data, including the GPS position, will be centrally stored on our portal. All data about the placement, model, type and year of construction are then available via the Portal. After a collision, this data can be passed on to us, so that the damage can be repaired quickly and the road is safe again. An extensive manual is also available in the NFC Tag. The damage can be easily repaired via a step-by-step plan, with photos of the various parts.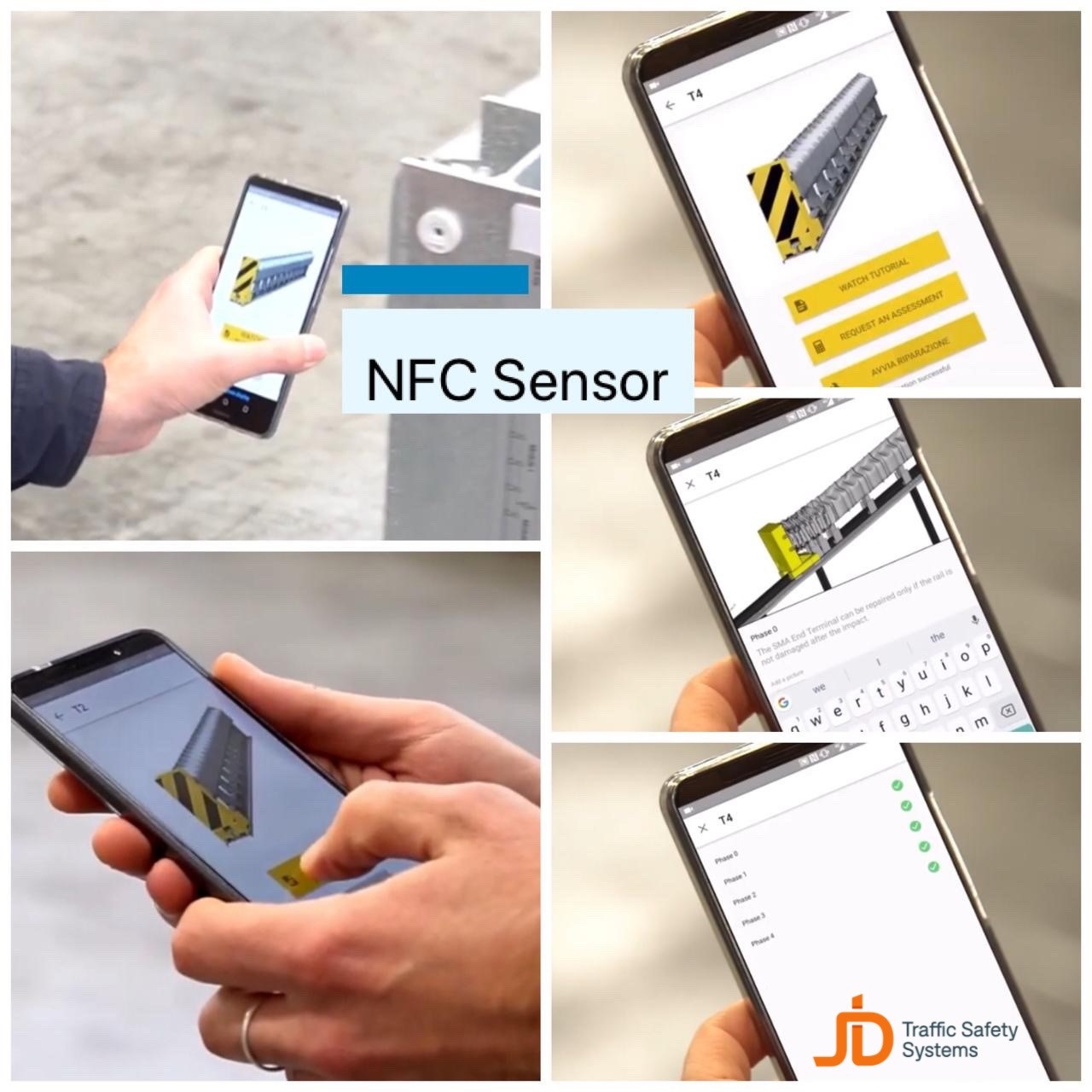 The advantages at a glance:
Successfully tested for 50 km/h
According to ENV1317-4, prEN1317-7 and EN1317-3
Redirective
Completely made of steel (100% recyclable)
Easy to install
Reusable (up to 80%)
No maintenance required
High security
The shortest terminal in the world
Comes fully assembled
Seamless connection to guard rail / guide rail
With CE Marking
Features NFC Technology for easy management and maintenance
| | |
| --- | --- |
| Length | cm |
| Width | 10 cm |
| Heigth | 760 mm |
| Performance level | speed |
| Redirection zone | Z1 |
| Lateral displacement | D1 |
| ASI | B |
No reviews available for this product yet
Share your experience with this product.
Customer service
Do you have questions about this product? Please do not hesitate to contact one of our specialists.