Traffic Pawn 30 cm with reflective band R2
Article code: 222135
Above €500 excl. VAT Free shipping

Suitable for sports fields and motorcycle driving schools

Flexible cone with weighted base

Sustainable and 100% recyclable

Indestructible cone

Fluorescent colouring for maximum visibility from any angle

Weight 0.8 Kg

Reflective film class 2
Traffic pawn 30 cm with reflective band R2
The fluor orange traffic pawn 30 cm with reflective band guarantees quality and has a long life due to all its advantages. Due to its small, striking and sturdy design, the pawn is ideal for sports fields and motorcycling schools. Or do you want to quickly create a landing site for your drone? Use the traffic cone 30 cm which is made with an innovative injection molding technology that is resistant to all temperatures and UV rays, so that the cone always retains its striking fluorescent orange color.
This fluorescent orange traffic pawn 30 cm distinguishes itself from all other 30 cm cones due to the unique inseparable connection between the cone and weighted base. The weighted base is made of recycled PVC that is secured to the pawn by a patented locking system. This makes it a one-piece traffic cone.


Flexible traffic pawn 30cm 100% recyclable
Afraid that the cone will break after a collision? No worries! This fluor orange traffic cone 30 cm is made of flexible PVC to ensure maximum durability. Even in the toughest conditions, this 30cm cone holds its own!
The force during a collision with this cone is absorbed because the cone flips over. This minimizes the possible additional damage and improves road safety. Unlike other cones, which fall apart when run over, this traffic cone is flexible, allowing the pawn to bounce back to its original shape. The sustainable character of the pawn will save you a lot of money!
The orange traffic pawn 30 cm with reflective film is produced entirely from high-quality PVC that is 100% recyclable.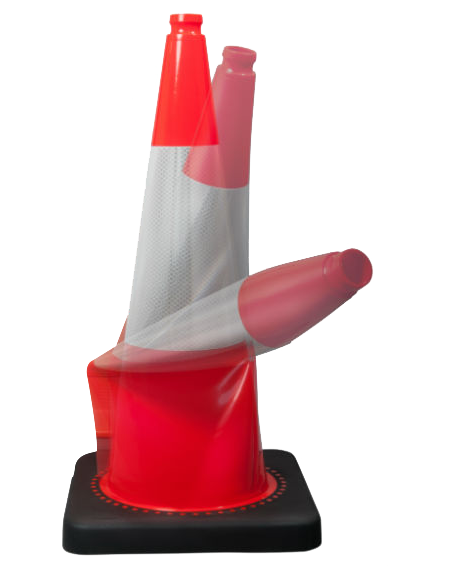 Top quality! The 7 advantages of the traffic pawn 30 cm:
Environmentally friendly traffic cone made of 100% recyclable materials
Made of soft PVC for maximum flexibility
Indestructible! Returns to original shape after being run over
Ultra durable, even in the coldest conditions
Withstands extremely heavy and powerful impact
Fluorescent color for maximum visibility from any angle
Easily stackable

Specifications orange traffic cone 300mm with weighted base
Dimensions: 23x23x30 cm (lxwxh)
Weight 0.8 Kg
100% recyclable
Reflective film class 2
Patented connection between cone and weighted base
Certified according to European Standard EN 13422+A1
Warranty 12 months
No reviews available for this product yet
Share your experience with this product.
Customer service
Do you have questions about this product? Please do not hesitate to contact one of our specialists.