Glasbolreflector StarLUX 119
Article code: 222206
360 degrees super reflective

Compression strength Up to ≥60 tons

Anti-slip surface

Self-cleaning

Available in white, yellow, blue, green and red

Have it installed or do it yourself
Glass road reflector StarLUX 119
Glass road stud reflectors application
360 degree tempered glass bulb reflectors are installed flush with the road surface for optimum traffic management. Not only are they clearly visible in darkness, but they also provide better visibility during the day. It also provides extra attention when road users drive over the glass convex road surface reflectors in, for example, redress lanes. Especially during poor visibility such as a setting sun or during heavy rain, glass road stud reflectors are more visible than standard road markers. This contributes significantly to increasing road safety. Examples of applications for glass road reflectors are; roundabouts, dark unlit roads, dangerous bends, crosswalks, center rails or parking lots, black spots. We supply glass road studs reflectors in 5 different colors; white, yellow, red, blue and green.


Glass road surface reflectors advantages
Our glass globe road reflectors retro-reflect 360 degrees so that they are clearly visible from any direction. Due to the high compressive strength of more than 60 tons, these glass sphere reflectors can be run over without any problems. The glass sphere reflectors survive the life of the asphalt with normal use, practice has amply proven this. They can also be driven over permanently. The surface is provided with anti-slip which prevents slipping. Our glass globe reflectors last up to 15x longer than plastic or aluminum road surface reflectors. The big advantage of the glass globe road reflectors is that they are self-cleaning. The dirt does not adhere to the glass and is automatically washed off by the rain.


Glass road surface reflector quality
Our glass sphere reflectors have been extensively tested for compressive strength and impact resistance. The compressive strength is tested with a pressure bench. With a constant increase in force, the glass sphere reflector is tested until the moment of failure. Our glass spherical road reflectors are produced with a compressive strength of more than 60 tons. Most glass bulb reflectors even have a compressive strength of 75 tons. This compressive strength is more than sufficient to drive over with the most heavy vehicles. In the Netherlands, the maximum permitted mass is 50 tons. After the glass bulb reflector has collapsed, no dangerously sharp glass parts remain, so that the road surface reflector is safe for the toughest conditions. In addition, our glass bulb reflectors have been successfully tested for impact resistance. This test is performed with a steel ball with a diameter of 50 mm and a mass of 0.51 kg. that falls on the glass sphere reflector from a height of 1.3 metres. No shards of glass or splinters may break off the road surface reflector. Our glass globe reflectors have also more than passed this test. Below is a photo of the tests performed.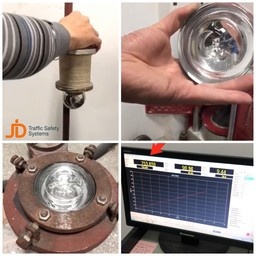 Glass road reflector installation procedure
Provide a safe workplace
Drill hole diameter 100 mm 25 mm deep
Remove asphalt or concrete from drilled hole
Blow the recess thoroughly dry and clean
Measure the depth of the recess carefully
Use our two-component adhesive
Place the glass road reflector in the recess
Press the glass road stud firmly
ADVICE: For the best traffic management, it is important to keep the mutual distance between the glass convex road surface reflectors as much as possible. This creates a calm and clear course of the road.


Glass road reflector StarLUX 119 specifications
Height: 46mm
Height above ground level: 19mm
Diameter: 100mm
Weight: 540g
Tested to ≥60 tons
Material: Tempered glass
Non-slip surface
Retro-reflective silver coating
CE certified
Colors: White, Yellow, Blue, Green and Red
Packaging: 14kg/box, 24 pieces/box


Questions about glass road reflectors?
Do you have any questions about our StarLUX Glass Road Reflectors? We are happy to advise you when placing an order or about the placement of the glass road studs. If desired, Traffic Safety Systems can also arrange the installation of the glass road reflectors for you. Feel free to contact us or ask your questions via our live chat or via the contact form. We are always available and happy to help you.
STRIKINGLY SAFE!
No reviews available for this product yet
Share your experience with this product.
Customer service
Do you have questions about this product? Please do not hesitate to contact one of our specialists.